Music, Mantra & Vibrational Healing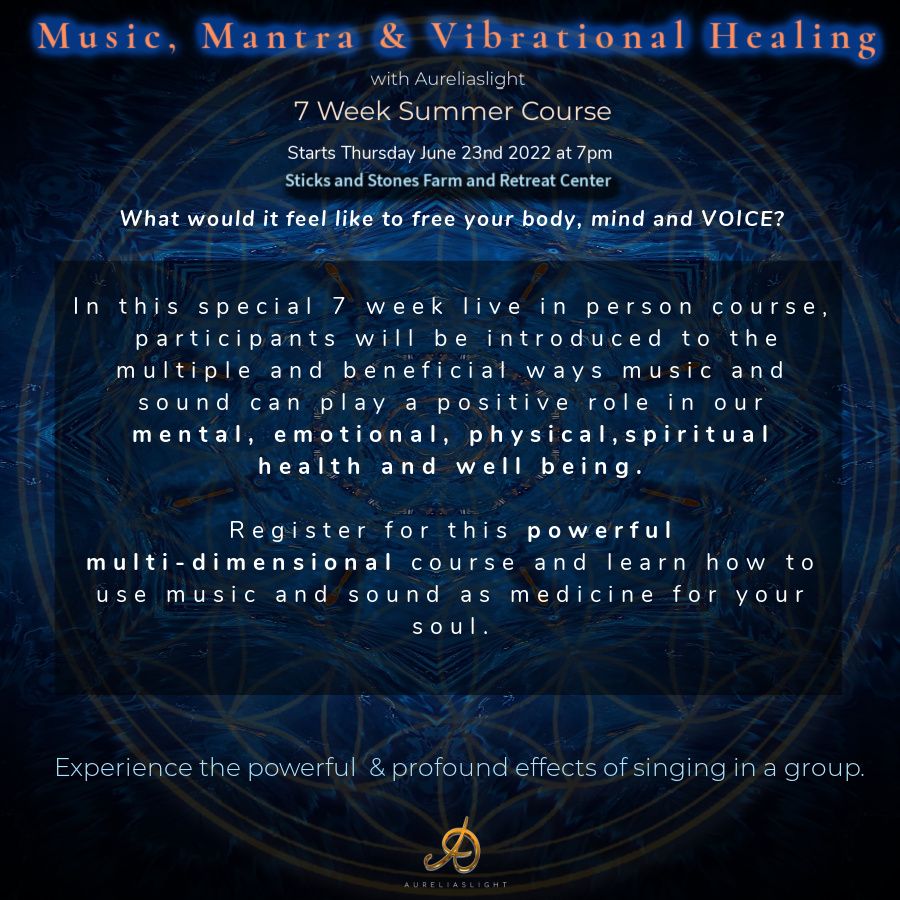 Music, Mantra and Vibrational Healing
7 Week Summer Course
In this special 7 week live in person course, participants will be introduced to the multiple and beneficial ways music and sound can play a positive role in our mental, emotional, physical and spiritual health and well being.  Join Aurelia from 'Aureliaslight' (composer/recording artist, sound healer, vocal coach, and teacher) for a powerful multi-dimensional course on how to use music and sound as medicine and the powerful effects of singing in a group. 
We are made of energy and when our mental and physical bodies are in alignment to certain beneficial and healing frequencies through singing, toning, movement and focused intent we are literally channeling this creative energy and this can transform our lives. 
Course includes: The Fundamentals of Singing,  Understanding of frequency and vibration, Vocal Lessons, Energy Release Techniques, Music and Movement, Mantras specific to Energy Centers, Community Singing and Sounding, Kundalini Activating Breathwork, Integration
In this time of great change and intuitive transformation, it is necessary for us to learn to use these natural tools for harmony, energetic balance and upliftment; as well as quality of life. Experience the sacred art of singing, sound and energetic healing amplification and enjoy it with a community of like minded souls walking the conscious spiritual path. 
"Music is the medicine of our soul" Plato and "Sound is the medicine of the Future" Edgar Cayce. 
All participants who finish this course will receive:
"The Sonic Journey'' full length meditation album and chakra balancing through Sound. 

10% off a *private session with Aureliaslight *introductory price limited time

An invitation to sing in future group choir music recording on Aureliaslight's albums. 

Starts Thursday June 23rd 2022 at 7pm
7pm- 8pm at Sticks and Stones Farm and Retreat Center- Newtown CT
Cost $222
Due to the powerful nature of this work and space we are offering this course to the first 15 participants. 
Register early
Please wear comfortable clothes, bring water bottle and yoga mat
Weeks of , 6/23, 7/7, 7/14, 7/21, 8/4, 8/11, 8/18
*NO class week of 6/27
Each week will be recorded so if you miss a week you will be sent the MP3 and course work for the week!